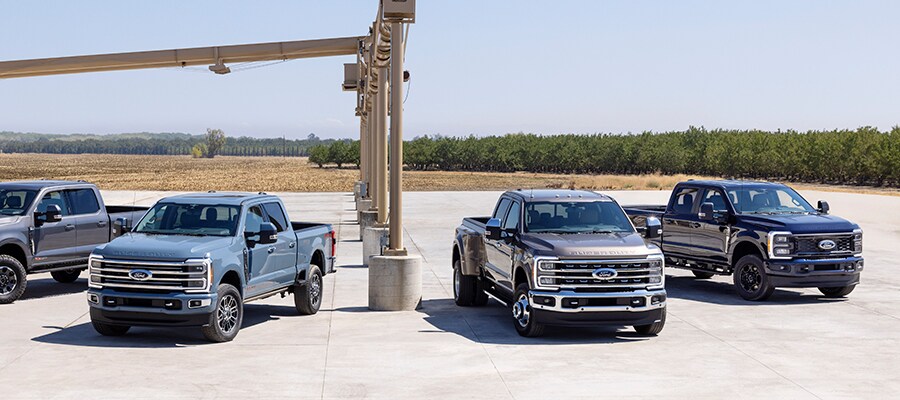 2023 Ford Super Duty
at Empire Ford of New Bedford
Explore the Super Duty Capabilities of Two Incredible Ford Trucks
Looking for a powerful truck with unbeatable power and a workhorse attitude? At Empire Ford, we have not one but two incredible options from Ford available on our Mt. Pleasant Street lot, and they both offer more than enough to please drivers from New Bedford to Fall River and beyond.
The Ford F-Series is legendary for its utility and prowess, with trucks in all sizes to suit a variety of personalities and styles. When South Coast drivers need a capable, light-duty machine, the always-popular Ford F-150 can fit the bill. But, when you need a truck with real oomph and plenty of abilities, there are two great Super Duty options - the Ford F250 Super Duty, and the Ford F350 Super Duty.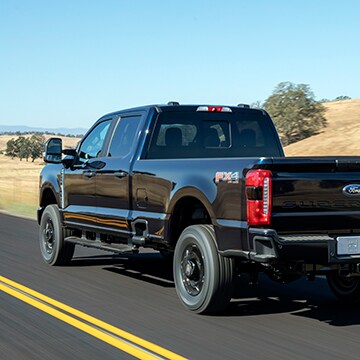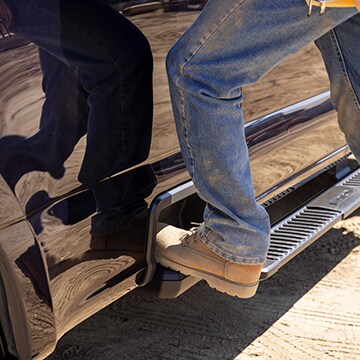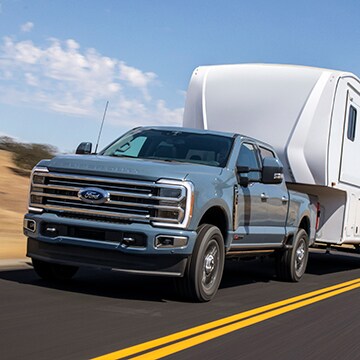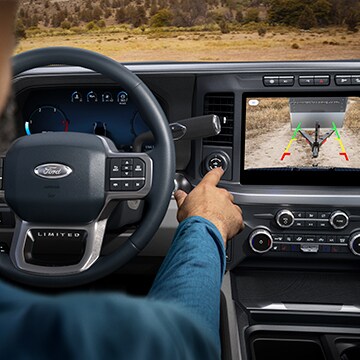 Get to Know the 2023 Ford F250 Super Duty
The first Ford Super Duty is the mid-range F250. This impressive truck strikes the right chord for many drivers because it has incredible road manners while offering the heavy-hitting power and utility you need to tow a work trailer or a family camper.
The 2023 F250 Super Duty is full-sized, and it's available in your choice of six trim levels, three cab styles, and two different bed lengths. You can customize your F250 to suit your needs based on how many people you need to carry, how many safety and tech features you want, and how much room you require.
Regardless of which trim or style you go for, the F250 offers you and your passengers a comfortable ride. With plenty of headroom and legroom inside and seats constructed to maintain comfort even on long journeys, the F250 will keep everyone happy. Plus, it's loaded with great features, including a standard rearview camera, available power-adjustable front seats, and a touchscreen infotainment system to make your drive as connected and pampering as it is comfortable.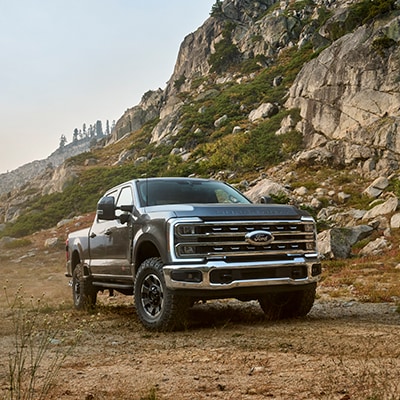 Powertrain Options:
Ford Super Duty trucks come equipped with one of four engine options. With two new engines for 2023, Super Duty trucks are some of the strongest muscle on the roads and are more efficient than ever. Depending on the configuration, you'll be able to tow up to an incredible 40,000 pounds and handle payloads up to 8,000 pounds. You'll also get a combined fuel efficiency of around 13 to 17mpg with the new 6.8-liter PFI V8 gas engine offering the best efficiency numbers.
6.8-liter PFI V8 Gas Engine, 405 horsepower, 445 pound-feet of torque
7.3-liter PFI V8 Gas Engine, 430 horsepower, 485 pound-feet of torque
6.7-liter Power Stroke V8 Turbo Diesel Engine, 475 horsepower, 500 pound-feet of torque
6.7-liter High-Output Power Stroke V8 Turbo Diesel Engine, 1,050 horsepower, 1,200 pound-feet of torque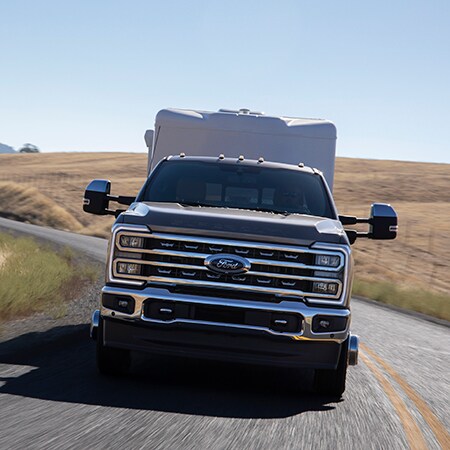 Getting Acquainted with the 2023 Ford F350 Super Duty
Still need more power? Empire Ford has the 2023 Ford F350 Super Duty to meet your needs when your job requires nearly-unlimited amounts of strength. Like the F-250, this Super Duty is pleasant to drive and comes in your choice of trim levels, bed lengths, and cab styles.
As one would expect from a Ford, the interior of the F-350 Super Duty is well-made and designed to increase your comfort and connectivity. Spacious and roomy cabins and a slew of great features help make this truck as easy to ride in as it is powerful. Look for available features such as satellite radio, a touchscreen display, and a heated steering wheel, all aimed at making driving to your work site a pleasure.
Meet Both Super Duty Trucks in New Bedford
Take your pick from six incredibly versatile and well-appointed model options available in F-250 and F-350 Super Duty trucks. The base model is the XL, which is geared toward work-oriented needs. Most daily drivers will appreciate the comfort amenities at the LARIAT level and above, with the highest trim levels affording every luxury detail imaginable. Explore the trim model options and pricing at Empire Ford:
XL: Starting at $45,865, the XL is work-oriented and comes standard with two-wheel drive and the 6.8-liter V8 engine. You can upgrade to four-wheel drive or any of the other powertrain options. You'll also have the choice between Regular Cab, SuperCab, or Crew Cab with either a six-foot-nine-inch or eight-foot bed.
XLT: Starting at $49,595, the XLT builds off the base XL and adds a few appearance upgrades and a power driver's seat. The standard engine is the 7.3-liter V8 gas engine with four-wheel drive. You'll also have the choice between Regular Cab, SuperCab, or Crew Cab with either a six-foot-nine-inch or eight-foot bed.
LARIAT: Starting at $62,035, the LARIAT builds off the XLT and adds more comfort and conveniences like power-adjustable pedals and steering wheel to accommodate a broad range of drivers. You'll also enjoy niceties like ventilated seats that push cool air through perforated leather upholstery. Once You get to the LARIAT, the Regular Cab option drops off.
King Ranch: Starting at $77,870, the King Ranch offers a unique western theme and is the first of the three luxury-oriented trims. It comes with all the amenities from the LARIAT with distinct style touches like Kingsville Antique Affect leather. Other King Ranch additions include a head-up display, a power tailgate with step, down camera, and parking sensors while the gate is down, a wireless charging pad for your devices, and a Pro Power Onboard bed outlet.
Platinum: Starting at $78,760, the Platinum level is the second in the luxury lineup and offers similar amenities as the King Ranch but with a more upscale urban vibe. The top three trim levels only come with Crew Cabs for maximum passenger comfort.
Limited: Starting at $97,990, the Limited represents the highest luxury tier from the Super Duty lineup. It comes with the most powerful engine options and a massive dual-pane moonroof that covers almost the entire cabin with a retractable sunshade.
Meet Both Super Duty Trucks in New Bedford
The best way to determine which of these Super Duty trucks is right for you is to stop by and visit us in person, right here in New Bedford. Let our sales team set you up behind the wheel of both powerful models, and see all that a Ford Super Duty can add to your weekday work, and your weekend fun.