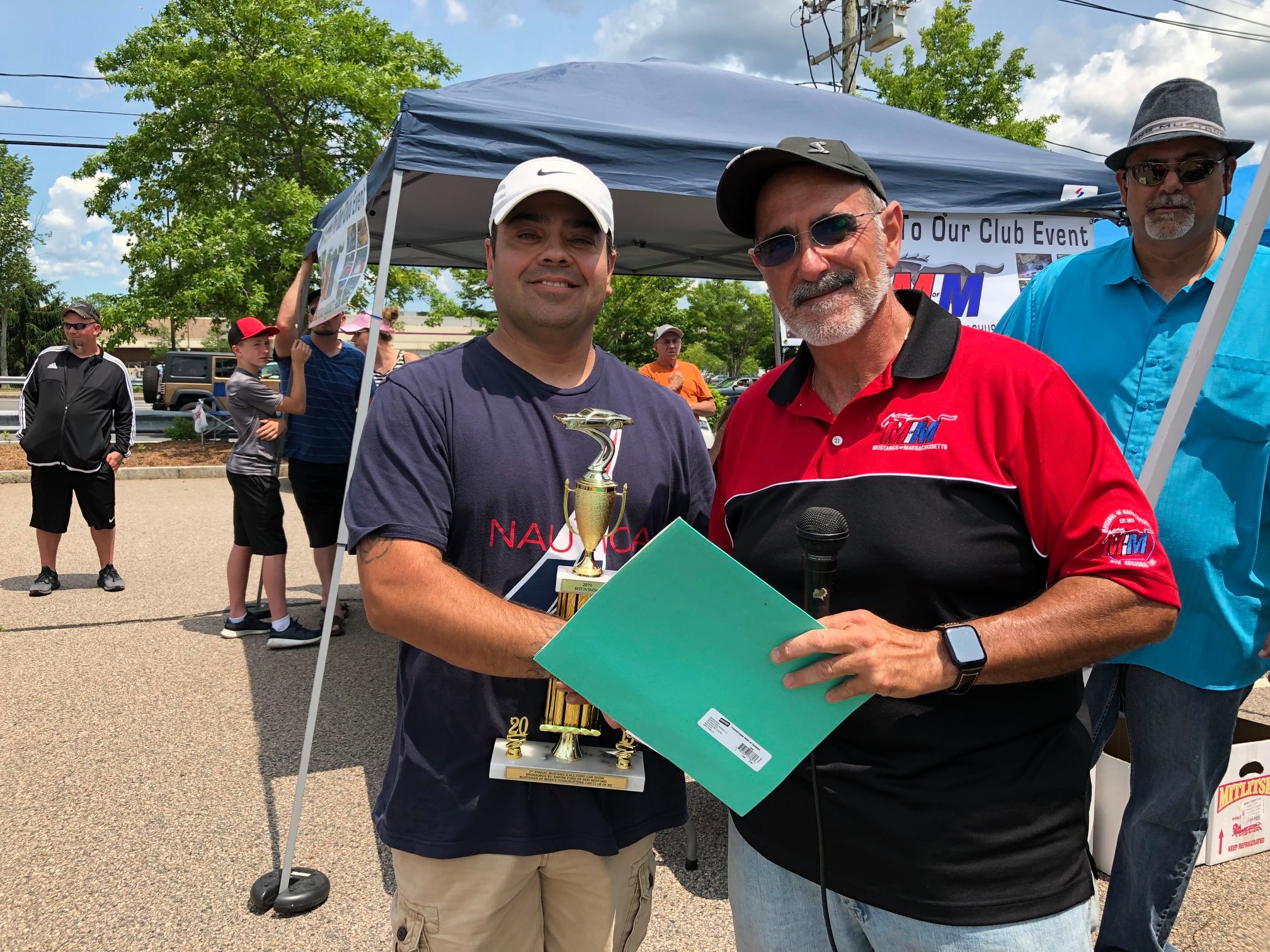 Pictured here is Gene Pacheco
(left)
, winner of "Best in Show" with Larry Chiodi (right), President of Mustangs of Massachusetts
Empire Ford's 2nd Annual Mustang & All-Ford Car Show drew a record crowd this year. The weather was perfect, with sunshine and a slight breeze, bringing out many participants and car show admirers. This year's event was held at the Dartmouth Mall, since Empire Ford's inventory has quadrupled over the past year, and they ran out of room to host the event on their lot.
The event was co-sponsored by the Mustangs of Massachusetts for the 2nd year in a row. "We maxed out the parking lot, so we're pretty excited about that," stated Larry Chiodi, Club President. The show was previously hosted by Ashley Ford for 12 years, then in April 2018, Rick Torres purchased the store and felt it was important to continue with the tradition under Empire Ford of New Bedford.
A total of 113 vehicles were entered in the show this year and over 400 people were in attendance. The first place winners for each of the 16 classes included: Douglas Lemmo (64-78 stock & modified) with his 1966 Mustang Convertible; Jerry Lemieux (79-93 stock & modified) with his 1986 Mustang GT; Danny Carpenter (94-04 stock & modified) with his 2002 Mustang GT; George Bryant (05-14 stock) with his 2005 Mustang GT; Sue Lessig (05-14 modified) with her 2007 Mustang; Jeff Read (15-19 stock & modified) with his 2017 Shelby GT350; Ed Moniz (50-59 Ford) with his 1963 Falcon Sprint Convertible; Larry Costa (Ford truck) with his 1990 Ford F-150; Ronald Waite (Fun Ford Convertibles – all years) with his 1940 Ford Convertible; Karl Cederholm (Fun Fords – all years) with his 1973 DeTomaso Pantera; Steve Langevin 93-98 Cobra) with his 1998 Mustang Cobra; Bill O'Connor (99-04 Cobra) with his 2003 Mustang Cobra, Robert Roy (07-14 Shelby GT500) with his 2010 Shelby GT500; Matt Hamel (15-19 Shelby GT350) with his 2017 Shelby GT350R; David Aguiar (Roush/Saleen – all years) with his 2006 Mustang Saleen and last but not least, Scott Chadwick with his 1928 Ford Model A Hot Rod in the Custom Class.
The big winner of the day was Gene Pacheco, who won "Best in Show" with his 1964 Ford 100, and is now entered into the Super Wheels Showdown which will take place in the fall in Boston. This event will be comprised of the area's "Best in Show" from various shows around New England who will attend the event.
Also on hand at this year's car show was Felicia Knight, from Ford Motor Company, who provided demos of Ford's IMPAIRMENT SUIT. This specialized suit simulates a person under the influence of drugs or alcohol and having to walk a straight line. During these demos, you could see how the "impairment suit" makes it difficult to perform even the most basic tasks and shows the danger of driving while impaired.
According to Larry Chiodi, the Mustangs of Massachusetts is a "Fun Mustang Club" consisting of about 80% Mustangs and 20% other Fords including Focus ST's, SHO's, Lightnings and others. If you're interested in joining their club go to their website: https://mustangsofmassachusetts.com/ and sign up to be a member on-line. They also have a private Facebook page you can join to buy, sell or get tips on modifying your car.