The 2020 Ford Explorer Takes on the Competiton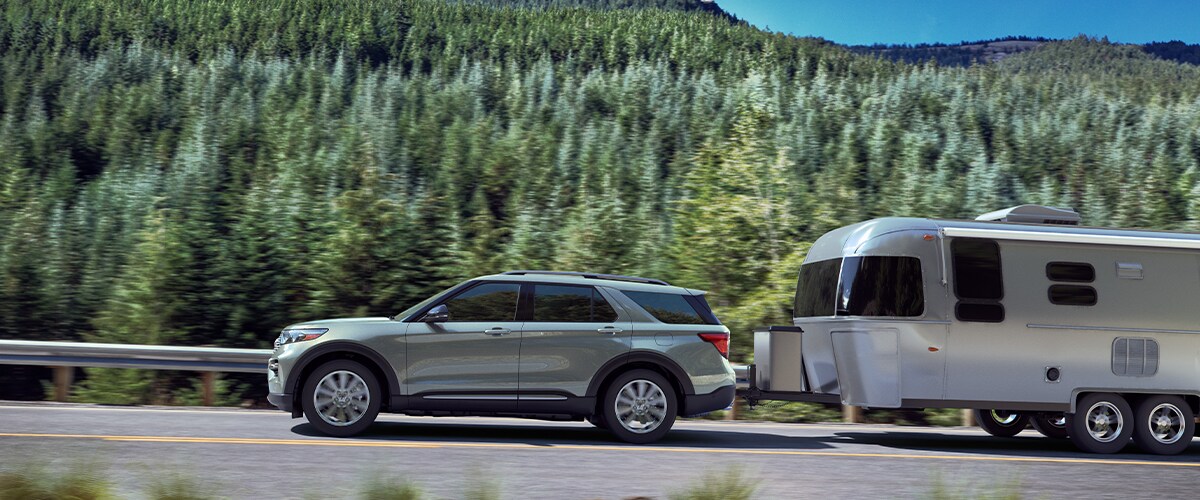 The 2020 Ford Explorer vs. the 2020 GMC Acadia
Just a brief assessment of what the new Ford Explorer can offer drivers from around New Bedford, MA here at Empire Ford of New Bedford is all it takes to sell you on midsize SUV research for this innovative seven-seat model. With cabin amenities reaching a luxury level - including a panoramic moonroof, leather upholstery, massage seats and more - this new Ford model boasts best-in-class V6 engine horsepower, a class-exclusive curve control safety setting, intelligent four-wheel drive with terrain management, and countless other highlights.
But don't just revel in the accomplishments - compare them to the highlights of others. Consider how the new Ford Explorer and GMC Acadia match up with a head-to-head competitive analysis below.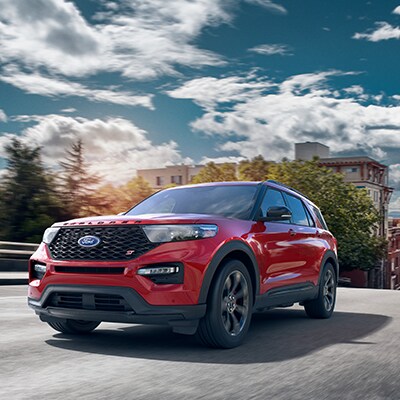 Compare Comfort
The new Ford Explorer features cabin arrangements and interior spacing that the GMC Acadia fails to find answers for. Its superior 152.7 cubic feet of total passenger volume leads to greater front leg and rear shoulder spacing for the driver, front seat passenger and back row guests. Cabin amenities not available in the GMC lineup include massage front seats, a standard driver-adjustable power front row, and rain-sensing windshield wipers.
Compare Technology
The 2020 Ford Explorer is digitally-equipped with active safety systems and connectivity settings that the new GMC Acadia lineup doesn't include or requires you to pay more. Alleviate stress when fitting into a tighter spot with available automatic parking and open the back intuitively when accessing a hands-free liftgate. And with HD radio, premium listening is a simple touch away.
Compare Capability
Comparing the standard EcoBoost® turbocharged and four-cylinder engine of the respective Explorer and Acadia, the new Ford midsize SUV pulls ahead with 300 horsepower and 310 pound-feet compared to 193 horsepower and 188 pound-feet. It even dominates the highest powertrain level, featuring best-in-class 365 horsepower with its twin-turbo V6 engine offering.
Review the Ford Explorer Model Lineup in New Bedford
Consider the new Ford Explorer from behind the wheel with test drives readily available to schedule today. Contact our team with questions that come to mind before stopping in!
| | | |
| --- | --- | --- |
| | 2020 Ford Explorer | 2020 GMC Acadia |
| Total Passenger Volume | 152.7 cubic feet | 143.8 cubic feet |
| Maximum Cargo Space | 87.8 cubic | 79.0 cubic feet |
| Standard Performance | 290 horsepower | 193 horsepower |
| Maximum Performance | 400 horsepower | 310 horsepower |
| Automatic Parking | available | not available |

The 2020 Ford Explorer vs. the 2020 Chevy Traverse
Interested in what makes the 2020 Ford Explorer a part of Ford's best-selling SUV series? You've come to the right place to discover answers for this comparison research question. Here at Empire Ford of New Bedford, we recommend this new Ford model among midsize SUV competition for its combination of best-in-class horsepower engine capacity, the class-exclusive features such as new curve control that it incorporates, and the countless cabin amenities that take your behind-the-wheel family carpool experiences to new heights.
Consider the nuance details of these insights with a head-to-head comparison between the new Ford Explorer and Chevy Traverse, extensively covering the features and performance highlights of both three-row models.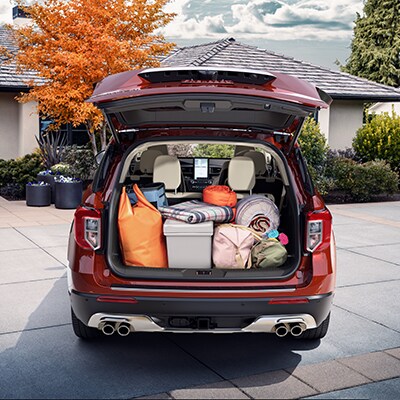 Compare Comfort
The new Ford Explorer comfortably pulls away in this category. With more leg space across cabin rows and increased rear head room for a less cramped feel, your guests will appreciate the comfort edge. And with cabin amenities that the Chevy Traverse doesn't offer - including standard driver lumbar power seats, available massage functions, and standard privacy glass - relaxation expectations are amplified.
Compare Performance
While the top motors of both Ford and Chevy SUVs reach compelling levels in terms of production, the new Explorer achieves more when relying upon its twin-turbo V6 engine option for potent output. This twin-turbo V6 engine produces best-in-class 365 horsepower compared to 310 horsepower, edging out the Traverse in torque capability with a 380 pound-feet to 260 pound-feet discrepancy.
Consider New Ford Explorer Models in New Bedford
Research different trim levels and feature differences from the award-winning new Ford Explorer lineup and schedule a test drive for any midsize SUV you take interest in at our New Bedford Ford dealership today.
| | | |
| --- | --- | --- |
| | 2020 Ford Explorer | 2020 Chevy Traverse |
| Maximum Performance | 365 horsepower | 310 horsepower |
| Driver-Lumbar Power Seats | standard | not available |
| Automatic Parking | available | not available |
| Massage Front Seats | available | not available |
| Keyless Start | available | not available |
| HD Radio | available | not available |

2020 Ford Explorer vs. 2020 Dodge Durango
It's easy to gravitate towards the best-selling appeal and award-winning design of new Ford SUVs, and the 2020 Ford Explorer here in New Bedford, MA is no exception. This new Ford midsize SUV - comfortably seating seven - is our pick for your family hauler of the future. But there are other vehicles in the marketplace to consider, such as the 2020 Dodge Durango.
Distinguish these carpool options from one another by comparing everything from interior space to cabin amenities, technology, and maximum engine output. Our team helps with this research process, laying it out in clear detail below.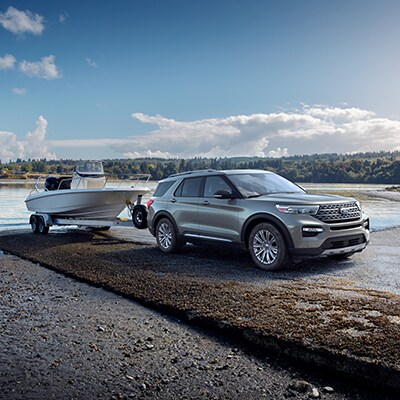 Compare Interior Space
If you're looking for additional space and an extra row for passenger accommodations, then the 2020 Ford Explorer is your choice. This new Ford model features seven seats and three rows compared to five seats and two rows, offering over 10 inches of rear shoulder space. Standard driver-lumbar power seats help you adjust seamlessly, as this comfort setting isn't offered with the Durango.
Compare Features
The 2020 Ford Explorer stands out from its Dodge Durango opposition when considering the standard and available amenities it incorporates. From an available dual moonroof - compared to a traditional sunroof option - to automatic parking, a hands-free liftgate, and massage seats, there's no denying the vehicle you prefer when assessing both convenience and the arrangements you will prefer.
Study New Ford Explorer Lineup Options in New Bedford
Review the entire trim level lineup and select a new Ford Explorer model that fits your driving lifestyle and the features you value to schedule a test drive for! We look forward to meeting with you during regular business hours to continue this comparison research process soon.
| | | |
| --- | --- | --- |
| | 2020 Ford Explorer | 2020 Dodge Durango |
| Seating | 7 | 5 |
| Cross-Traffic Alert | available | not available |
| Massage Front Seats | available | not available |
| Automatic Parking | available | not available |
| Hands-Free Liftgate | available | not available |
View Offers